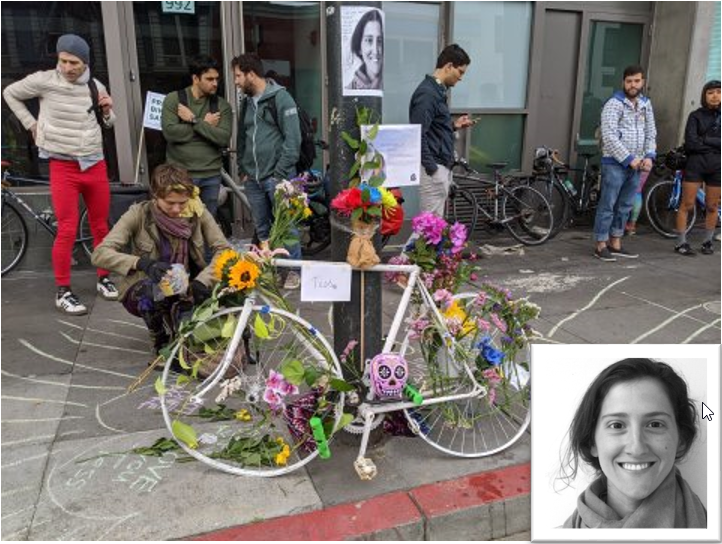 Airbnb employee struck dead after door opening forced her into traffic
A 30-year-old woman, a resident of Berkeley, was killed whilst bicycling in a conventional striped bike lane to work along Howard Street in San Francisco on March 8, 2019.
Tess Rothstein was struck by a truck after a woman opened the door of a stationary vehicle, forcing her to swerve into oncoming traffic. The crash happened around 8:20 a.m., near Howard Street and Sixth Street intersection. Howard Street is one of the busiest traffic corridors, especially during peak hours, in San Francisco.
What happened?
Witnesses of the incident said Rothstein was riding a hired Ford GoBike when she veered into the oncoming traffic after one of the parked cars had a door suddenly opened. She fell on the street and was fatally struck by a box truck.
An employee of Airbnb, Rothstein was an avid rider, joining the mass of San Franciscans who commute to work using bicycles. The woman who opened the door of the stationery car said she did not see Rothstein approaching.
Who was Tess Rothstein?
The Stanford graduate was working at Airbnb as a design researcher. Her workmates described her as curious and fearless. Known as a society builder, Rothstein would bake goodies to share and run short story book clubs.
The group of family and friends calling themselves 'Tess's Beloved Community' published a letter saying, "Tess was a community builder everywhere she went." A ghost bike has since been installed at the crash scene as a memorial of Tess.
Bicyclists protection and city infrastructure
Part of the Tess Beloved Community at City Hall || Ida Mojadad
The Tess Beloved Community raised safety concerns whilst handing a petition to the city leadership to make changes to the city's infrastructure. The letter urged the city's officials to urgently act on enacting a "comprehensive plan ensuring bicyclists safety."
Rothstein was struck down whilst just a block away from protected bike lanes. The city delayed putting protected bike lanes where Tess was struck because they were worried about parking space.
City hall has been pressured to install protected bike lanes, especially along the Howard Street corridor as it is a high-risk area. A protected bike lane shields bicyclists from traffic by installing posts to separate the two. The initial project stretched from Eleventh to Sixth, stopping short from where the accident happened.
Witnesses' mental toll
The unnamed woman who opened the door of the parked car said the incident changed her life and she is heartbroken. She was quoted by the media saying "I am dying. She [Rothstein] came to change my life."
Another witness of the accident who uses the same route to travel to work said he is now living in fear of being struck also.
Henry Belton, a resident of San Francisco, who witnessed the crash said he still has the image of the crash in his mind. He was quoted by ABC7 News saying Rothstein "fell out on the streets under the back tire of the big box truck and that has been stuck in my head for a long time… I can't sleep."
---